A series of different protests as well as a mass strike organized by labor groups rocked South Korea on December 28, 2013. 
From noon till late at night, about 100,000 citizens and labor workers angrily demonstrated against the current government's election manipulation scandal and clampdowns on labor groups as well as moves toward privatization of the nation's railway system, though the administration denies such claims. Some observers are calling the outbreak of demonstrations proof that public anger has nearly "reached its boiling point" [ko].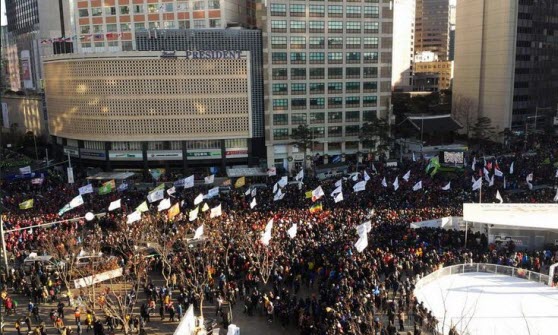 Although it failed to reach its goal of one million participants, more than 100,000 [ko] were reported to be present till late afternoon. Although police estimate the total number barely reached 20,000, some disputed the number by pointing out that 13,000 riot police were mobilized for the event.
One image making the rounds online purportedly of the strike turned out to actually be from 2010. Nevertheless, plenty of dramatic photos showing the scale of the main protest in Seoul Plaza circulated the web:
Tweet: These citizens were not able to enter the plaza as a wall of police bus blocked their way. So instead, the plaza's surrounding roads were fully packed with these people.
Tweet: It is hard to guess the real scale of the protest against railway privatization by merely looking at photos. But I will post these three photos, which show protesters who are "in" the Plaza. Please take into account that these are only 70 percent of the total participants.
Though labor unions overwhelmingly counted the largest participation, various non-labor groups also hosted minor protests today, including students, lawyers, media workers [ko] and a particularly unique group, the newly launched KOCA (Korean Online Communities Alliance) [ko], an association of the nation's major online community sites.
"We are Not Fine" movement-themed protest (from 12 p.m. to 3 p.m.) 
In Seoul, Daejeon, Changwon and Pusan, young protesters, especially students, took turns standing on stage and spelling out "the reasons why they can't be okay" [ko] from 12 p.m. to roughly around 3 p.m.
Flash mobs (at 3 p.m.)
Flash mobs of citizens singing the revolutionary anthem "Do you hear the people sing?" from the musical "Les Misérables" were held in Seoul, Pusan, Gwangju, Daejeon and Daegu. Here is a video of a flash mob which took place near the Yonsei University in Seoul:
Civil rights lawyers' protest (from 2 p.m. to 3 p.m.)
Civil rights lawyers held a protest at 2 p.m. at Bosingak Bell Pavilion, and around 3 p.m. they marched towards the Seoul Plaza.
Tweet: This is a photo of the No. 6 exit of the City Hall subway station [which leads to the Seoul Plaza]
Mass strike by labor groups (from 3 p.m. to 4 p.m.)
Before joined by other groups, labor unions held a fierce demonstration at Seoul Plaza against the government's decision to crack down on fired railway workers and labor leaders.
Main rally
A main demonstration was scheduled to take place around 4 p.m., but Seoul Plaza was already packed with protesters from around 2 p.m.
Tweet: Under the slogan of "From the courtroom to the streets" and "There is no injustice that wins the justice", these lawyers are gathering at Bosingak to call for democracy. This shows how far our democracy and common sense have fallen.
The protest continued into the night.
Source: http://globalvoicesonline.org/2013/12/28/photos-100000-south-koreans-protest-election-scandal-labor-clampdown/