Jaejoong's pre-release single called "Sunny Day" (Shiny Day) has hit #1 on Japan's iTunes Singles chart even without the ability for him (or any JYJ member) to advertise his music on any shows in Japan or South Korea.
According to translated reports, this is the 5th time Jaejoong has had the honor of gracing the popular chart at #1.
In addition, the song hit #1 on MNet Daily Chart, Nate Ringbacktone Chart, and U+ Store Music Chart and Music Belling Chart.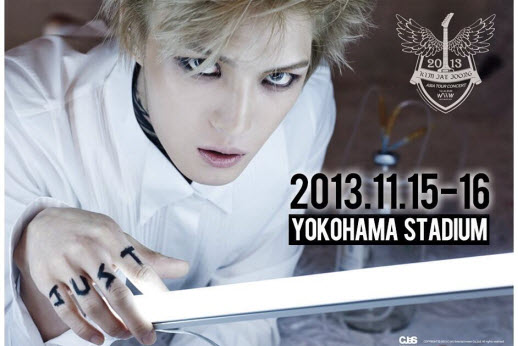 The full album, called WWW (Who, When, Why), is expected to be released Oct 29, 2013.
Ahead of the release will come another goody from Jaejoong, namely a song titled "Butterfly".  "Butterfly" will be pre-released on Oct 23.
Earlier this month, all tickets for his solo tour, "2013 Kim Jaejoong 1st Album Asia Tour Concert", sold out in 15 minutes; crashing the servers of the ticket site in the process.
"Sunny Day" features Noel's Lee SangGon (lastname,firstname), a very famous artist in Asia.  And Jaejoong "personally participated" in writing "Butterfly".
Jaejoong's solo concerts in Yokohama Japan will be held Nov 15 and 16.
Related
http://jyj3.net/2013/10/17/news-131017/
http://jyj3.net/2013/10/18/ranking-131018-kim-jaejoongs-shiny-day-ft-lee-sang-gon-topped-other-korean-charts/
http://www.kpopstarz.com/articles/45510/20131016/jyj-jaejoong-a-sunny-day-ranks-number-1-on-japan-itunes-chart.htm
http://jyj3.net/2013/10/15/news-131015-explosive-reaction-for-kim-jaejoongs-pre-released-song-sunny-day/