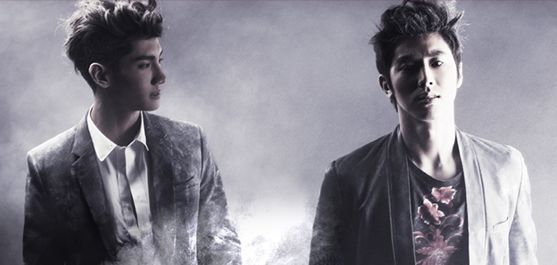 Guess who may be blaming the duo version of TVXQ for their falling business profits? If you said SM, you've guessed correctly according to a translated reports from naver.com.
Apparently, SM is struggling to come up with a reason why their business profits were way below expectations. So, they blamed it on the production cost of TVXQ's concerts. Wow.
Is this a pre emptive strike for what's to come? Who knows but time will tell.
Here's the report:
---
SM Entertainment showed earning shock [economic performance shows a lot lower than expectation]. Its business profits in this third-quarter were below analysts' estimated profit – which were less than half of estimated figure.
SM submitted its report of this quarter to the Financial Supervisory Service at 14:12 without any public announcement. According to the report, its business profits for third-quarter was 11.7 billion KRW. It was more than the last third-quarter, but a lot less than expectation of stock market. Analysts had estimated its third-quarter's business profits to be 20~23 billion KRW.
The stock price responded immediately. It started to falling slowly right after its report, and hit the floor of the lower limit at 14:25.
[irrelevant part omitted]
Analysts at stock firms are in a state of confusion and it is known that a shower of enquiries and complaints are coming from institution investors. "We haven't even seen the official report yet, but everyone is in panic as there are telephone calls without a break. We are not able to find out exactly why SM had such Earning Shock at the moment", appealed a [anonymous] analyst at a firm.
It has been known that SM explained about the reason of this Earning Shock is because of a big production cost of TVXQ and Super Junior's Arena Concerts. However, general experts insist that SM's explanation cannot be an underlying reason. "There might have been some [serious] problems in the company because it is just too lower than expected" – commented another analyst.
SM insisted that TVXQ and Super Junior's concerts were the reason of its bad economic performance, but it used to be considered as one of the most favourable factor of SM as most analysts estimated that "Its profits of the 3rd quarter will be drastically increased because the results of the Arena Tour will be reflected in 3rd-quarter, not 2nd-quarter", because about 1 million people were expected to come to the concerts in Japan in this half-year.
Due to SM's Earning Shock, other entertainment stocks turned into a sharp fall. YG Entertainment decreased by 13.86%, JYP Entertainment, PAN Entertainment and Chorokbaem followed by 4~8%.
_____________________________________________________________
SK Stock Firm added, "The reason of its sharp fall is caused from a lot of difference between the market's estimation and actual business performance. The problem was that the production cost of TVXQ concerts which were known to attract half a million people became too high".
"A company like SM, its estimated profit tends to be entirely depends on what the company says. How are we supposed to believe it in the future, after announcing less than half the business profits of the market's expectation?", commented a analyst at another firm.
Source mat.:
http://www.hellokpop.com/2012/11/16/experts-think-sm-ent-is-lying-sm-blames-tvxq-super-junior-for-profit-loss/
http://m.news.naver.com/read.nhn?mode=LSD&;mid=sec&sid1=101&oid=366&aid=0000090504
Translated by: http://dedicatee.wordpress.com