090523 TOHOSHINK TOUR 2009 STAFF REPORT (HOKKAIDO)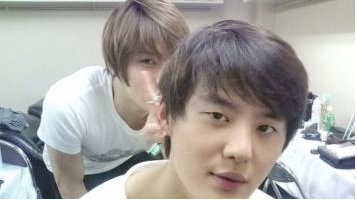 2009/05/23(Sat) 22:55
Eagerness…
Junsu!
Your hard work on the stage was full of charisma! (^^)v
2009/05/23(Sat) 13:27
Even though unfortunately…
it has been raining, everyone from Hokkaido, and those who came from everywhere to join us, let's get high together!
Please be careful to not catch a cold.

2009/05/23(Sat) 14:10
At the goods area
Meet the dance team! They have increasingly become the PR representatives (to advertise) the concert goods!
These nice guys are always refreshing!

2009/05/23(Sat) 14:41
With great enjoyment
It looks like lunch-time for Yunho and Changmin. [They do it] with great enjoyment!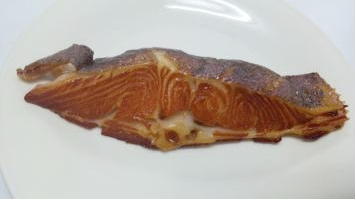 2009/05/23(Sat) 14:42
By the way..
[Let's] introduce an item from lunch!「Baked code with mirin sauce」It's red meat! The members also ate it well (T/N: it was delicious/tasty).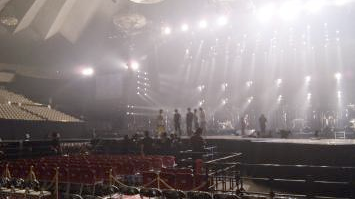 2009/05/23(Sat) 15:32
Being enthusiastic…
during rehearsal! Junsu is being very enthusiastic!!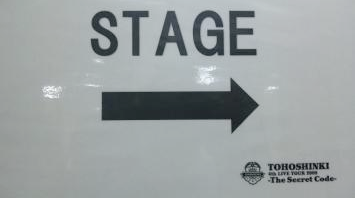 2009/05/23(Sat) 16:28
In today's performance…
There may be mono at the beginning. [T/N: I think they mean there might be something extra at the beginning? Unsure.]… Enjoy!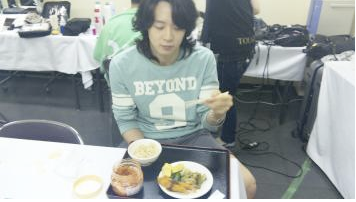 2009/05/23(Sat) 17:01
A little early…
Yuchun is having dinner a little early. Because it's before going on stage, it's a moderate portion.
Source: [tour2009.toho-jp.net]
Translation credits: mandasoh@iscreamshinki.net
Please do not remove without full credits.