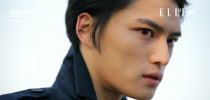 For TVXQ, Korea's top idol group, July of 2009 was an unforgettable moment of fate. The 3 members Xiah Junsu, Micky Yoochun, and Hero Jaejoong had suddenly filed for injunctive relief to suspend the contract against their agency SM Entertainment, arguing that the "13 years of exclusive contract is over the line." The fans, who had been very absorbed into the "boys (who come) before flowers" (T/N: alternatively, "pretty men"), were extremely agitated.
They had thought that [TVXQ] had been trotting along without a problem but in truth it was as if they were festering inside.  These 3 in the end chose the road of separation ·independence in the name of JYJ. However, the environment that surrounded them was not very amicable. Sometimes they had to taste disappointment under a cold gaze.
About 2 years after the breakup, I invited JYJ's Kim Jaejoong (Hero Jaejoong) to "Truth in Drink" as a representative of the rest of the members of JYJ. He had stepped out for a world tour with Thailand at the beginning of this year as its start. He shined in his roles, taking on 2 roles despite having only one body by doing executive directing of the stage. In his face was a relief of having finished grand stage without a problem. His expression was also cheerful. Further, most of all, his skin was so very (beautifully) pale and smooth.
JYJ's Thailand Concert, Debut as the Executive Director of the Stages
Q: I hear that the Thailand Concert was quite the affair.
"It's all because of the fans. There were points where we wish we had done better, but most of all, we were really happy with the fact that with our songs, we created a complete stage. It's so moving.
Q: I hear that during the performances, the screams for Jaejoong were the loudest…
"Ah, there's no way (laugh) If that were the case, that seems to be due to the red see-through outfit that I wore."
Q: Then the outfits of the other members?
"Park Yoochun is in charge of the manly image in JYJ, so (he wore) blue, and Kim Junsu adds a humorous image so he wore green, I matched them. I expressed an image that was a bit androgynous."
Q: There must have been a "right to [pick] first" as the executive director of the stage.
"(laugh) That's right. That's in the discretion of the director. From now on too, I want to keep trying stage directing."
Q: Today is "Truth in Drink." What's your capacity for alcohol?
I'm on the moderate side when it comes to drink. Instead, if I drink a lot, my face becomes red. When I'm home alone and I can't sleep, I sometimes drink a glass of sake or beer.
Wallpaper of Cell Phone, Still TVXQ
Q: We'll address the difficult issues first. To Jaejoong, TVXQ is?
"There are bitter feelings still. However, at the very least, it is not a problem between members. I think there are misunderstandings and lies from around us. Speaking for myself, I can clear up the misunderstandings, even now. I can also send to the members text messages in my seat. In fact, the wallpaper of my cell phone is still TVXQ, also."
Q: So it must have been disappointing during the Concert.
"I thought: How nice it would have been if the other two had also been, wouldn't we had made better music."
Q: Other disappointments?
"It is 7 years after TVXQ debuted with the single 'Hug' in 2004. Even if we don't talk about the Korean songs, there are about 100 songs in just the songs we were active with in Japan. But we cannot sing them. That is so disappointing."
During our conversation he showed me his cell phone wallpaper. He chose as albums of TVXQ as songs he listens to frequently despite admonitions from others. What was funny was that he has—6 cell phones. He said: Because there are so many prank calls… It seems that it's better to use five or 6 all at once, more so than switching the number frequently."
The Single Photograph: Luxury Interior Design? "I Ordered Them Myself Online"
Q: Nowadays many various pictures on the internet are talks of the town. What is this "date picture" from when you were in high school?
"Ah, I also saw that. I think it was probably around Myungdong, Seoul. It's before debut so it seems that it's probably when I was high school. It's true that I was on a date with a girlfriend. But it's been so long now that I don't even know how she is."
Q: The "I was there" shot in a gathering for drink with the entertainer Kang Yebin?
"Ah, that was my birthday party, on January 26th. I met with some of my friends in a bar in the vicinity of Apkujeongdong, Seoul, and I saw her for the first time then. I don't know Ms. Kang Yebin very well but I came to say hello to her because she came with a drama script writer that I know very well. In truth we sat quite far apart, one front one back, but the picture had such an amazing angle that, on the picture, we seemed like we were leaning on each other. (laugh)"
Q: At that itme, what other people also came?
Most of them were my non-entertainer friends. Among the entertainers it was Hong SeokCheon Hyung and Narsha Nuna and such.
Q: The luxury interior of your new home to which you moved was also the talk of the town.
"I did them myself. However, they are not "luxury." Among them, about 80%, I decorated with inexpensive internet orders. I've always liked doing interior design. Even when me and Mr. Kim Hyunjoong , the two of us, were living together, I did the interior design of the house.
Lived Together with Kim Hyunjoong, Living Alone Now.
Q: So you've lived together with "Boys Before Flowers" Kim Hyunjoong."
Until the end of last year, for about 1 year, we lived together. And at the beginning of this year we moved, Hyunjoong to Chungdamdong and I to Jamshil."
Q: How did [you come to know] Hyunjoong?
"I got to know him before debut out of coincidence. After that, we have been close friends throughout."
Q: There must be points on which "men of warmth" (T/N: attractive men) connect.
"It's not that… (laugh). I met Hyunjoong for the first time, and I felt a bit sorry for him. He looked fine, the way he's shaped, but he looked a bit like a loner. (laugh) So my heart went out to him even more."
Q: With the late Mr. Park Yongha, too, your relationship with him was special.
"When I think of that, even now my chest feels like it's choking. It was when I had traveled to the US after the performance at Tokyo Dome in Japan. As soon as I arrived in the airport, there came a phone call by Yongha Hyung. He asked me where I was, and when I said America, he said "Ah, okay have a good performance, we should have a drink later'… to think that such was the last… And two days later I heard the news of his suicide."
PART 2
Scandals with Japanese Entertainers? Yamada Yu and Jaejoong are Just Friends
Q: I know that you in Japan, too, you stand out as having many friends…
"I don't know. I'm close with people such as the Singer / Actor Yamasita Tomohisa, who has begun activities in Korea too, the vocal of the well-known male group Winds Tachibana Keita; And the Model / Actress Yamada Yu. It's a case of them coming to see our performances and we get to know each other.
Q: There is a scandal rumor with a Japanese model—does she happen to be Yamada Yu?
"Yamada Yu is a top model in Japan, like a 'Little Lee Sora'. (T/N: Lee Sora is a legendary top model in Korea.) We met for the first time in our after party of the U.S. LA Showcase. But I know that she is in a relationship with a well-known actor in Japan. Therefore there are no scandals about us in Japan no matter how much we hang out, but it seems that in Korea there has been a bit of a misunderstanding. (laugh)"
Q: Now I understand. However, there were also rumors of being in a relationship with Ayumi Hamasaki.
"That is very strange as well. Ayumi cheered for us during the A-Nation performances, which Japan's Avex holds every year, and last October she came especially to the JYJ Korean Showcase—it seems that rumors arose because of that. But that's not the case. You must all know that Ayumi announced a surprise wedding with an actor of Austrian descent. (laugh)"
Ideal Woman is Jeon Inhwa, Kang Sooyun. Until now, Number of Dates = 4
Q: And, your ideal woman?
"Before, it was a person who would give a positive feeling upon first meeting, but now I wish that it is a person who would understand well my talk and I would understand well her talk.
Q: Didn't you say that your ideal women were Jun Inhwa and Kang Sooyun?
"That's right. Jun Inhwa sunbae nim has an elegant beauty, and Kang Sooyun sunbae nim has a unique attractiveness. In particular, Kang Sooyun sunbae nim's dimple is attractive. I fell for her after watching the drama "Woman (Ruling the) World." I thought she was a new face but I found out that she was a top star. (laugh)"
Q: How many dates have you gone on after your debut?
"After 2004, 4 times. They were all entertainers."
As soon as those words fell, all around us there was chaos, saying that he shouldn't say such things. It was that it will become published and it will be troublesome. But Kim Jaejoong said: "It doesn't matter."
"I did one Blind Date after debut. But what good comes of it if I hide things like this? These are all things that fans who may know already know. Also, it's funny to say that I don't have such things. (laugh)"

Strong Points in Appearance is Pale Feet; Complex is Thin Thighs
Q: What do you think is the reason you connect in Japan?
"First of all, I can be friends with Japanese entertainers. I'm on the side of telling them a straight advice, such as "I think your singing ability is a bit lacking," and it seems that they take that without any misunderstandings themselves.
Q: If you were to pick out your attractive points?
"Pale feet? (laugh) They are unusually white compared to other parts of inside of my body and so they stick out and they are bit awkward too."
Q: Complexes?
"Thin thighs. My thighs are on the thin side compared to other men who are of similar build as me."
Q: And plastic surgery?
"That's a secret. All my fans know already but if you don't know, I'll pass. (laugh)"
Instead, he grinned, saying that he used to be concerned that his nose was a bit flat.
Dream, Entertainer Kim Jaejoong
Q: Your plans for the future.
"Activities as JYJ is the first priority. I think the world tour performances should be wrapped up well."
Q: Other fields that you as an individual want to challenge yourself with.
"Now that I've done musical directing I'm getting more desires. Acting and musicals, too, if there are opportunities, I want to do more of them."
On this day, I talked with Kim Jaejoong with beer. He said that he turns red, but even after drinking 5 to 6 glasses there was no change to the color of his complexion. He is strong in his singing, dancing, and directing abilities and also in drinking. He was just so honest, more than he seemed (from his appearance upon first meeting). The reporter had to actually differentiate between those things to write and those things to not. But Kim Jaejoong said "I can't say that the facts that the fans all know aren't true. To your questions, I answered honestly, everything," and lessened the needless worries of this reporter.
Part 3
[Truth in Drink 3] What Things are Inside Kim Jaejoong's Bag?
There will be a little inspection, please.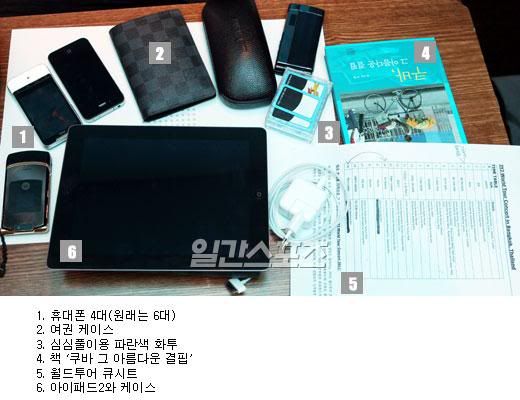 (1) Four cell phones (usually, 6)
(2) Passport case
(3) Blue Hwatu, for killing time. (T/N: Hwatu is a card game popular in Korea)
(4) World Tour Q-Seat
(5) Ipad 2, and case.
Part 4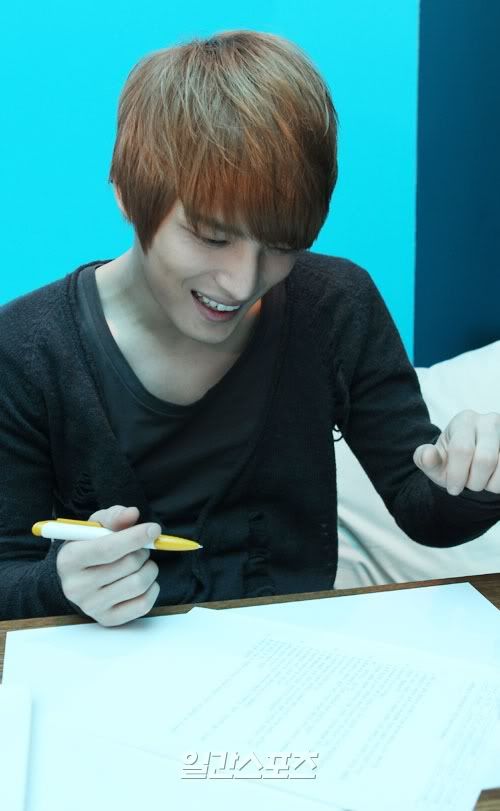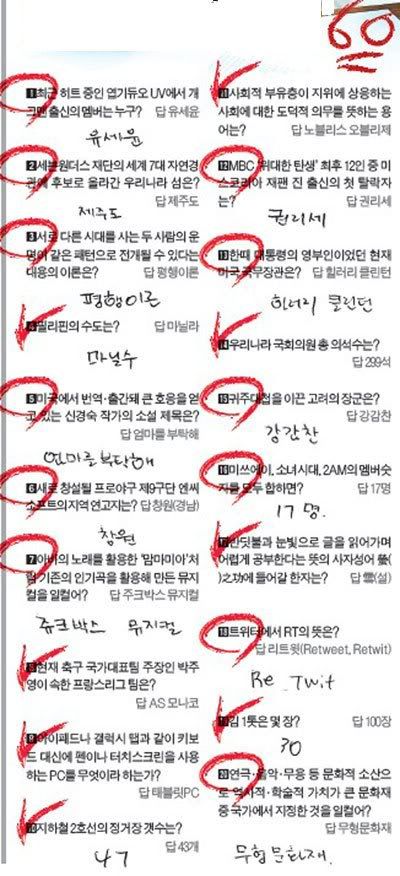 Kim Jaejoong has many friends in Japan and in the US. One of the reasons for that is his proficiency in Japanese and English. They are those he learned while on the job on-site, but he was a bit special in his feel for learning languages. He was comparatively strong in the quiz questions too. Question number 3 on parallel universe theory and Question number 7 on jukebox musical made one guess at his level of general knowledge. On Question 4, he realized the answer later but he purposefully wrote in the wrong answer, saying that he didn't get to it by himself. On getting right the number of stops of Subway Line #2, that was too much, no matter how you sliced it.
(1) The member of the Yupki (T/N: "bizarre") Duo UV, a hit nowadays, who is of a comedian background? (Answer: Yoon Seyoon)
Jaejoong: Yoon Seyoon
(2) The island of our country which went up as a candidate in the nature-scenery (category) in the 7 Wonders Foundation? (Answer: Jejudo)
Jaejoong: Jejudo
(3) The theory the contents of which says that the fates of two people who live in different ages can proceed in the same pattern? (Answer: Parallel universe theory)
Jaejoong: Parallel universe theory
(4) The capital of the Philippines? (Answer: Manila)
Jaejoong: Manil-su (T/N: see preface)
(5) The name of the fiction of author Sin Kyungsook which is bringing a large response as it was translated and published in the USA? (Answer: Please Take Care of My Mom)
Jaejoong: Please Take Care of My Mom
(6) The (assigned) Hometown of the NC Soft, the 9th Team of the Professional Baseball league that will be newly established? (Answer: Changwon)
Jaejoong: Changwon
(7) What do you call musicals that utilize existing popular songs, such as 'Mamma Mia' which utilized Abba's songs? (Answer: Jukebox Musical)
Jaejoong: Jukebox Musical
(8) The French League Team to which Park Jooyoung, the current captain of the Korean national team, belongs? (Answer: AS Monaco)
Jaejoong: [blank]
(9) What do you call a PC which lets the user use a touch screen or a pan instead of a keyboard, such as the Ipad of the Galaxy Tab? (Answer: Tablet PC)

Jaejoong: [blank]
(10)What is the number of the stops of the Subway Line #2? (Answer: 43)
Jaejoong: 47
(11)The term which means the moral obligation of the society's wealthy that comes with their position? (Answer: Noblesse oblige)
Jaejoong: [blank]
(12)Of the final 12 of MBC's "Great Birth", the first one to be eliminated, who was the Jin (T/N: #1) for Miss Korea Japan? (Answer: Kwon Lise)
Jaejoong: Kwon Lise
(13)The current Secretary of State who was once the First Lady of the United States? (Answer: Hillary Clinton)
Jaejoong: Hillary Clinton
(14)The total number of seats in the national assembly of Korea? (Answer: 299)
Jaejoong: [balnks]
(15)The General of Kyoro (T/N: Korea about a millennium ago) who led the Great Victory of Gweeju? (Answer: Kang Kamchan)
Jaejoong: Kang Kamchan
(16)If you add the number of members in Miss A, Girls Generation, and 2AM? (Answer: 17)
Jaejoong: 17
(17)The Chinese character that should go into second letter of the four-letter term that means that one reads with the glow of the firefly and snow and studies with hardship?
Jaejoong: [blank]
(18)The meaning of RT in Twitter? (Answer: Retweet, Retwit)
Jaejoong: Re Twit
(19)The number of seaweed sheets in one bundle? (Answer: 100)
Jaejoong: 30
(20)What do you call that which is designated by the state among those cultural assets that have a high historical and educational value which are products of plays, music, dance, and the like? (Answer: Intangible Cultural Assets)
Jaejoong: Intangible Cultural Assets Source: Joongang Sports Daily
Credit: JYJ3