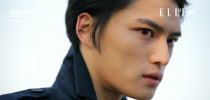 Jaejoong's skills at directing shows where he showcases his meticulous, creative nature has caused him to land a new gig!  These skills became known because of his surprisingly adept nature at directing JYJ's recent massively successful concert shows in Thailand, Taiwan, and Beijing China. 
To further hone his skills, Jaejoong is participating in the directing part of the first ever gala show for Rhythmic Gymnastics All Stars 2011 scheduled to be held June 11 and 12 at Hwajung Gymnasium at Koryo University.  Fans concerned about Jaejoong's participation in the gala and his own duties to JYJ's live shows in June need not worry.  He'll be involved in the gala, but he's not the Executive Director.  So he won't be taking on the responsibilities of directing the entire show.
The JYJ member will be in charge of the music selection and arrangement, stage effects, stage choreography, and costuming for the part of the show he's directing.
Translated reports say that Jaejoong became interested in this gala because "he felt attracted to the characteristic of the rhythmic gymnatics gala show that maximizes dynamicism (sic) intersecting with a variety of genres".   I'm pretty sure there may be something lost in the translation. 
It may mean that he's attracted to the dynamic nature of the show as it appeals to, and may have performances containing, a variety of different genres.
The gala show is put together by Sohn Yuhnjae (yeah, I saw 'yunjae' at first too).  The music director for Junsu's blockbuster stage play "Tears of Heaven", and the choreography director of the musical Cats will also participate in special performances by certain participants invited to perform.
What the sponsors of the gala wanted to do is to combine the excitement of the sports with the "dignity of a scene of a ballet performance, and the exciting atmosphere of an idol concert".  So the show seems to highlight what they're interested in by making it more interesting to a larger number of people.
Let's wish Jaejoong luck (Junsu and Yoochun too) as he continues to move forward.