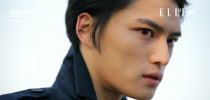 Male group JYJ's KimJaejoong showed off his aura as a director that compares well to that of a professional.
Recently,  in community forums online, Pictures of Kim Jaejoong directing the  Thailand performance stage-to-be of the JYJ World Tour has been  displayed and is gathering attention.
In  the pictures, Kim Jaejoong, who is wearing comfortable clothes of jeans  and a white t-shirt, is meticulously checking the placements of the  lightings and the lines of movement of the stage.
The  netizens who were exposed to the pictures positively responded, with  comments such as "Director Kim Jaejoong is also very impressive," and  "Even images of him directing is a photo spread. Is this a scene from a  movie?"

Meanwhile,  JYJ will hold the 'JYJ World Tour Concert in 2011' in five countries in  Asia and five cities in North America, which will begin over two days  on the coming April 2nd and 3rd in Bangkok, Thailand's Impact Arena.
Source: TV Daily
Translation Credit: JYJ3