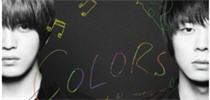 Tohoshinki has scored yet another #1 song on Japan's Oricon WEEKLY chart thanks to the hit song 'Colors', which is written and performed by members Jaejoong (Jejung) and Yoochun (Yuchun).
Colors: Melody and Harmony is the 7th number one song the Korean group has scored on the Japanese Oricon Weekly chart.
Despite the conflict with their Korean management company (SM Entertainment), the guys continue to outperform expectations. Colors was also chosen as Hello Kitty's 35th Anniversary theme music.
In addition, the Live DVD of their performance at Tokyo Dome (The Secret Code tour) also clinched the #1 spot for weekly DVD sales.
TVXQ also performed in Shanghai the other day to a zealous crowd of impressed and overwhelmed Chinese fans. The crowd kept chanting "I Believe" to express their support during this tough time in the members' lives.